McAfee Site Advisor Add-On broke my back button in Firefox!
Everything was fine and dandy until, my Firefox was updated to 3.6.16.  All of a sudden, the back button wasn't working. Sooo, if I searched for something via Google, and clicked on a found link, I couldn't go back to the search results page if I wanted to because the back button was grayed out!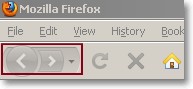 As usual with these sort of updates, some other third-party extension broke this functionality.
I went through my Add-Ons list:
AdBlock Plus
AddThis
Evernote
Garmin Communicator
Google Toolbar
Java
McAfee SiteAdvisor
Microsoft .Net
NoScript
Nuke Anything
ShortenURL
WOT
XMarks
I disabled all the add-ons and one-by-one re-enabled them, restarting my Firefox each time. to see which add-on broke the back-button.
Turns out, it was McAfee SiteAdvisor. I compared it with another user who posted a list of add-ons he had, and who also lost the back button function. He too had McAfee SiteAdvisor.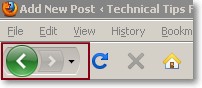 Sooo, if your back button stops working, and you have McAfee SiteAdvisor, disable it and try it out.  If you don't have that add-on, try the method of disabling all your add-ons and re-enabling them, one-by-one, to isolate the culprit:
From the menu bar go to Tools–> Add-ons [to open the Add-ons window]
Select Extensions on top
Click on the Add-on
Click "Disable" then "Close"
Restart Firefox