Problem: User's Internet Explorer crashing alot. Event log registered the following error message on numerous occasions:
Faulting application iexplore.exe, version 6.0.2900.2180, faulting module unknown, version 0.0.0.0, fault address 0x00000000.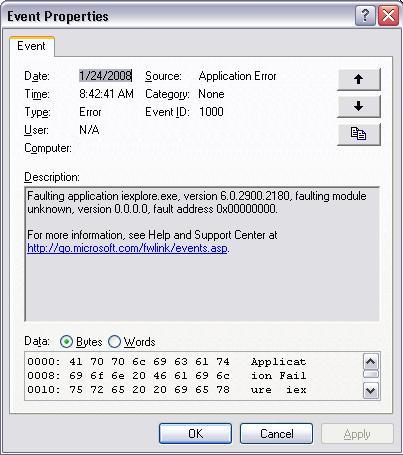 Almost ALWAYS, this error is caused by some third party adware app that's installed. Sometimes it's a fancy IE toolbar (not yahoo or google), such as some sort of "shopping assistant" , MyWebSearch, or HotBar toolbar. Stay away from these third party apps.  They claim they are not spyware or adware, but they are. In this particular user's case, the user had screensaver software that they had downloaded from Screensaver.com.
Solution: Download SuperAntiSpyware, install it and update the definitions. Get yourself Revo Uninstaller and install it. Run Revo in safe mode, uninstall any third party toolbars or search assistant applications.  Revo scans and removes entries from the registry. Also in safe-mode, run a complete scan using SuperAntiSpyware. Next, check the MS System Configuration Utility (type "msconfig" at the run prompt – go to the Startup tab) to make sure there are no other unnecessary third party apps that run at startup.  Next, check the IE Add-ons (IE–>Tools–>Manage Add-ons) to make sure no unnecessary third party app is loaded when IE is launched. Finally, download and use HijackThis and the HijackThis Log Analyzer, if necessary, to remove the browser helper objects (BHO).
Note: User's machine running Windows XP Service Pack 2